We believe that everyone should have heard of it even if they have not seen golf. This is a relatively high-end sport, usually favored by business people, so the price is relatively expensive, the general public will not choose this sport. So have you heard of golf umbrellas? What kind of umbrella is this? What is the difference between golf umbrella and ordinary umbrella? Let's take a look together.
As the name suggests, it is an umbrella specially used on golf courses. Generally, golf umbrellas can be divided into long pole with manual, straight ploe with automatic, and 2 fold with auto open etc. Golf umbrellas are usually relatively large, and it is difficult to hold the umbrella when strong wind blows over it, and it is easy to fly away. In response to this problem, the golf umbrellas made today have their own concepts. The umbrella caopy is double-layered, and the top of the umbrella cover with a wind vent. However, the upper layer of canopy can completely cover the lower canopy. The double layers of canopy are stitched with a few needle and thread. During normal use, the rains will not enter the inside of the umbrella, and winds will come out through the wind vents, the design is very clever.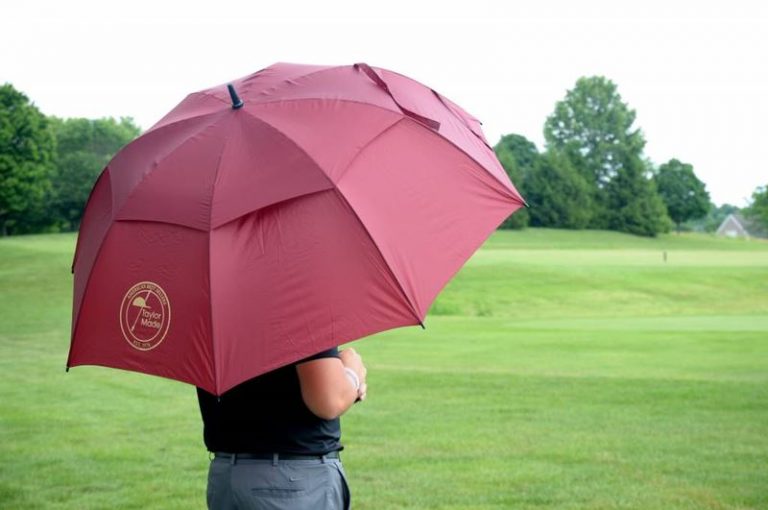 1. Fabrics of Golf Umbrella
Usually the canopy fabric of golf umbrellas is high-end materials, such as 190 nylon silver coated or 190 pongee. The materials is very flat, and the rains will fall down quickly when get wet. 190 nylon silver tape features very good UV protection function, and it can also play a role in sun protection in summer. So we can often see such umbrellas on the beach.
2. Handle of Golf Umbrella
The handles of golf umbrellas are more diverse, including wooden handles, plastic-clad iron, pure plastic, titanium-plated iron, and so on. You can choose different styles according to your needs. The shapes have straight, curved, animal and so on.
3. Common Specifications of Golf Umbrellas
The more common specifications of golf umbrellas are 27 inches * 8K, 30 inches * 8k, 34 inches * 8k, as well as * 16K and * 24K. "K" represents the number of ribs in the umbrella frame. The more ribs, the ribs will be stronger. For example, 16K means that there are 16 ribs.
4. Ribs of Golf umbrella
The ribs of golf umbrellas are usually in fibreglass material, which are very light and not easy to break. The iron ribs in the past were too cumbersome, so they are rarely seen now, and will gradually be eliminated.
Therefore, the golf umbrella is also a universal umbrella, it is just a better quality windproof and sunscreen umbrella, the price is a bit more expensive than ordinary umbrellas.