A must-have umbrella for night walking, with lighting and reflective design !
As a necessity in life, umbrellas have undergone many transformations and upgrades. From the first manual umbrella to the current automatic umbrella, people's requirements are getting higher and higher, so the development of umbrellas is getting faster and faster. There are umbrellas for rain protection and for sun protection. But there are very few umbrellas that combine the two functions in life. Most of the umbrellas on the market are not waterproof enough. After using the umbrella, the water on umbrella become a distressing problem. Whether at home or in the car, as long as the used umbrella is not paid attention, the rain water will drip all over the ground, so the current public is still not satisfied with the design of the umbrella.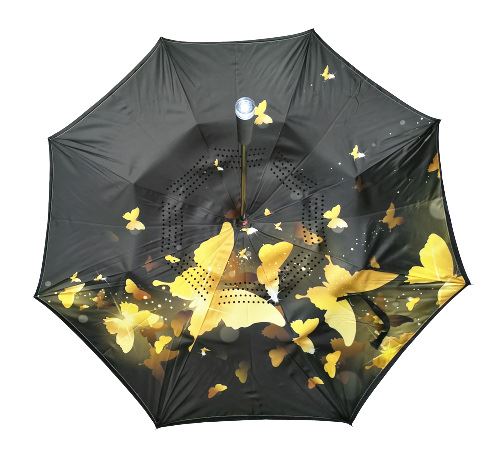 Reverse umbrellas are now on the market. This new generation of in-vehicle reverse umbrellas is also specially designed for vehicles. The design of reverse non-wet vehicles can save you from the worries of rain and wet vehicles. The highlights of this umbrella are very prominent. It adopts a reverse umbrella design, a fully automatic umbrella function, an enlarged umbrella surface, a vehicle-specific, wind-resistant frame, waterproof umbrella cloth, and waterproof technology, so the umbrella solves the needs of users, as long as the problems that users worry about are solved together.
At the same time, the umbrella also supports LED lighting, which is completely a flashlight, which can be used even in the dark night. The combination of a flashlight and an umbrella is also an effective use of space, making the umbrella more and more complete. In addition, this umbrella uses a wind-resistant alloy frame, which is more durable, rust-proof, anti-crack, and anti-deformation. It also adds points to the quality of the umbrella. It is not only a must-have product for cars, but also indispensable for home life.
Umbrellas are not only for beauty, but practicality is the last word. The reverse umbrella has achieved the most functions in the smallest space. It has been upgraded and modified based on the traditional umbrella, which is more in line with the taste of the public. The umbrella is not only pratical, but also very simple, suitable for different groups of people. You can use this umbrella on both sunny days and rainy days. It is an indispensable product in life.