Although the super large golf umbrella is not too common in daily life, we can often see it in golf clubs and racing competitions. The biggest feature of this umbrella is the super large size. It can be said to be the largest umbrella that can be held in our hands. The normal specifications are between 25 inches and 32 inches. As more people understand the excellent characteristics of this umbrella, such as good quality, beautiful appearance, good sunshade and rainproof effects, golf umbrellas are gradually popularized, and high-end hotels, high-end clubs, and high-end residential villas have also begun to be adopted in large numbers.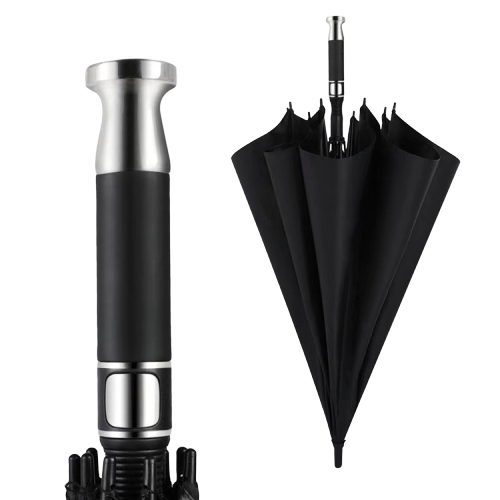 Choose materials for golf umbrellas are more elaborate. The umbrella frame is mostly made of full fibreglass materials, and the unique toughness of the fiberglass frame ensures that the umbrella will not be easily blown off in the stormy.
But if consider it from a cost perspective, the iron material will be cheaper, but it will easily to break in a short time. So, the manufacturer always do not recommend the customers to choose it.
Most of the golf umbrella fabrics are high quality fabrics, mainly including 190 nylon silver coating and 190PG fabric. With such fabrics, the umbrella canopy can always keep the flat, and the rain will drops quickly.
190 nylon with silver coating has anti-ultraviolet function, which can filter out the hot summer heat and bright colors, which makes people enjoyable. 190PG fabric feels soft and extremely textured. It is unpretentious and makes people feel stable and generous. EVA (commonly known as sponge) is often used as the handle of golf umbrellas. This handle has a good feeling. There are also plastic handles or wooden handles, but it is best to match them with rubber handles. The hardness is moderate and the grip is very comfortable in the hand.
There are many styles for golf umbrellas, the most common ones are straight handle golf umbrellas, automatic golf umbrellas, folding golf umbrellas and windproof golf umbrella.