Printing and dyeing is an essential part in the process of making umbrellas, especially custom printed umbrellas. Many parts of the umbrella need printing or dyeing, such as umbrella cover, umbrella bag, umbrella strap and so on. Today, let us understand the history of the development of printing and dyeing.
Printing and dyeing is also called dyeing and finishing. It is a kind of processing method, and it is also a general term for pre-processing, dyeing, printing, finishing, washing, etc.; As early as six or seven thousand years ago in the Neolithic Age, Chinese ancestors were able to dye linen cloth with hematite powder Into red. The primitive tribes living in the Nuomuhong area of the Qaidam Basin in Qinghai can dye their wool into yellow, red, brown, blue and other colors and weave woolen cloth with colorful stripes. During the Shang and Zhou Dynasties, dyeing technology continued to improve. In the palace handicraft workshop, a full-time official "dyeing people" came to "hand dye the grass" to manage the dyeing production. The color dyed is also increasing. By the Han Dynasty, dyeing technology reached a very high level.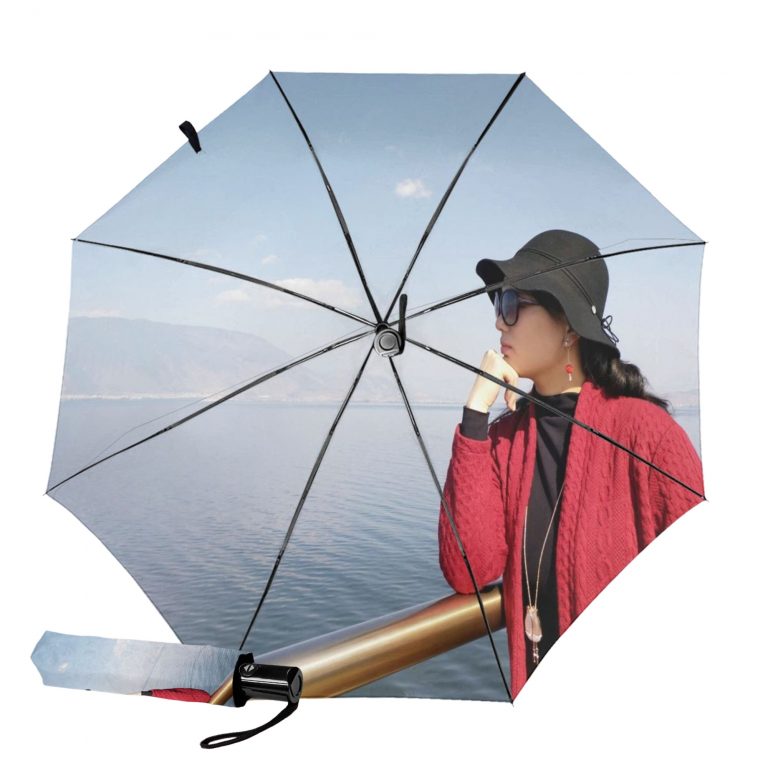 With the continuous improvement and development of dyeing technology, the colors of textiles dyed in ancient of China have also been continuously enriched. Someone once did a chromatographic analysis on the Tang Dynasty silk fabrics unearthed in Turfan. There are 24 colors in total, among which red are silver, water red, scarlet, magenta, and purple; yellow are goose yellow, chrysanthemum yellow, apricot yellow, golden, earth yellow and tea brown; Cyan and blue include egg blue, azure, emerald blue, sapphire blue, red blue, and navy blue; green includes hu green, bean green, leaf green, fruit green, dark green and so on.
In recent years, energy conservation and emission reduction have become a trend in Chinese's industrial development. The printing and dyeing industry, which is polluting, is facing a series of national policy restrictions. In 2010, the state issued a policy to eliminate the backward production capacity of the industry, and some small workshop-style enterprises are bound to face integration. On the other hand, the rising prices of raw materials such as cotton and wool have also put pressure on the industry. More challenges will promote the upgrading of the industry and the concentration will increase.
The development of Chinese's printing and dyeing industry has received great attention from the government and textile industry. In recent years, the state has included the technical transformation of the printing and dyeing industry as one of the key industries supported by the textile industry. At the same time, it has also given corresponding policy support in terms of technology development and scientific and technological research, so that the printing and dyeing industry in China has gained a lot in terms of quality, variety and efficiency. Great improvement, and overall competitiveness has increased.
The current development trend of the printing and dyeing industry at home and abroad is high efficiency, energy saving and environmental protection. These three aspects complement each other and are indispensable. To develop productivity, improving production efficiency is the most direct means; energy conservation has reached the stage where measures must be taken; while energy conservation measures are taken to develop productivity, environmental protection awareness and pollution treatment methods must also be taken.