The production process of oil-paper umbrella is complicated and all manual. The foundation of a good umbrella is a strong rib. "cutting the rib" includes dozens of processes. When we came to the umbrella bone supporting workshop, we saw that Master Zhang was devoting himself to making umbrella stands. He said: "Our oil-paper umbrella is made of local bamboo that has grown in the sunny place for more than 3 years. It is flexible and not easy to break." With Master Zhang's fingertip dance, the umbrella's skeleton was immediately formed. For a small umbrella, all materials used are from nature. There are more than 20 pre-processes, and the production process is all done by hand.
For an umbrella, the umbrella key is the key part to control the opening and closing. Should metal fittings such as springs be used? Master Zhang smiled and said: "Umbrellas have to withstand rain and water for many years. Metal materials are very easy to rust and are not durable. Bamboo is tough, corrosion-resistant and extremely elastic. Therefore, the umbrella stand of the oil-paper umbrella is made of bamboo. "The umbrella key is equivalent to the switch of the oil-paper umbrella, and it is also used to support the weight of the entire umbrella rib and umbrella surface. It is necessary to ensure that it is not damaged after repeated use. Therefore, the production of the umbrella key is the most exquisite key component of the oil-paper umbrella.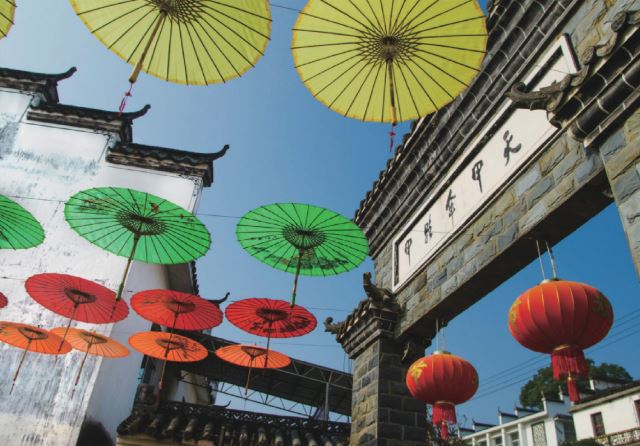 Oiling is an important process. Only when the paper surface is coated with specially formulated tung oil, the strength of the paper can be enhanced, and the paper will become thicker, flexible, wear-resistant, and waterproof, otherwise, all previous efforts will be lost in the end even if there is no error in every previous process . "This is tung oil cooked in advance." a master craftsman dipped the tung oil with a cloth ball and rolled it on the front and back of the umbrella to make it fully penetrate the umbrella paper. The master said: "It matters to brush more or less, and the intensity of brushing oil need to be paid attention to. It must be moderate. The process is 72 and a half, and moving in and out does not count."
From the initial selection of materials, through cutting the umbrella stand, raised the umbrella pole, drilled the small hole, installed the umbrella key, mounted the umbrella ring, pasted the umbrella paper, painted the umbrella, brushed the tung oil……, finally become the umbrella product. There are nearly a hundred large and small processes, which is really slow work. Only in this way, the made tung oil umbrella can be repeatedly used by thousands of times, and withstand the wind of level 5. Regardless of the sun or rain, it will not break, fade, deform, or leak. The mystery that has been passed down for thousands of years is here.