With the development of global's economy and the improvement of people's living standards, there are more and more fishing enthusiasts across the worldwide, and the equipment used is more and more diverse and high-end, and fishing sun umbrellas are gradually appearing in people's vision. The fishing sun umbrella is mainly used for shading, rain and wind when fishing. It is modified from beach umbrellas and British tents, and can be used in various fishing environments. Fishing sun umbrellas generally use aluminum alloy and fiber materials to reduce the weight of the umbrella. In order to prevent wind, it will also be equipped with windproof inserts, air vents and other components, which is very practical. How to choose?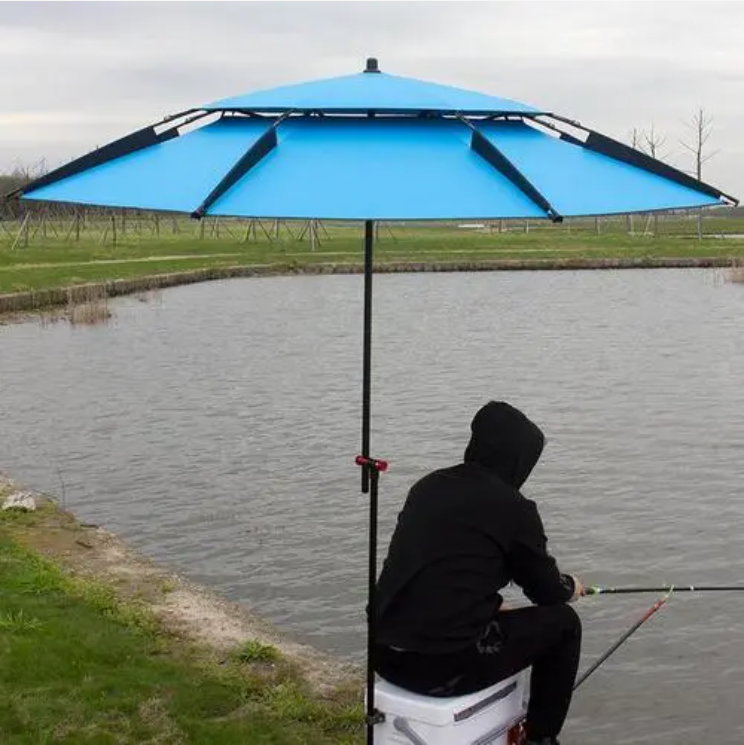 1. Fabric material
One of the considerations when buying a fishing tool parasol is the anti-ultraviolet properties of the fabric fiber itself. Among the untreated fibers, the fishing parasol made of polyester fiber has relatively better anti-ultraviolet effect. So when you buy a fishing parasol, you should pay attention to the material on the label, and try to use polyester fiber to make a fishing parasol.
2. The knitting density of the fabric
The tightness and thickness of the fabric will affect its UV resistance. The thicker the fabric, the better the anti-ultraviolet performance, and the tighter the fabric, the stronger the light-blocking ability and the smaller the ultraviolet transmission. Knitted fabrics are usually looser than woven fabrics, so the protective effect is not as good as woven fabrics. The gaps of plain weave fabrics in woven fabrics are larger than twill weaves, and the twill weaves are larger than satin weaves, so the protective effect of plain weaves is poorest. Another thing to pay attention to is the color of the fabric. The darker the color of the fabric, the lower the UV transmittance and the better the UV resistance. Therefore, when choosing a parasol, we must fully consider the thickness, tightness and color of the fabric.